June 24, 2021
Green Tree Beauty's Summer Essentials List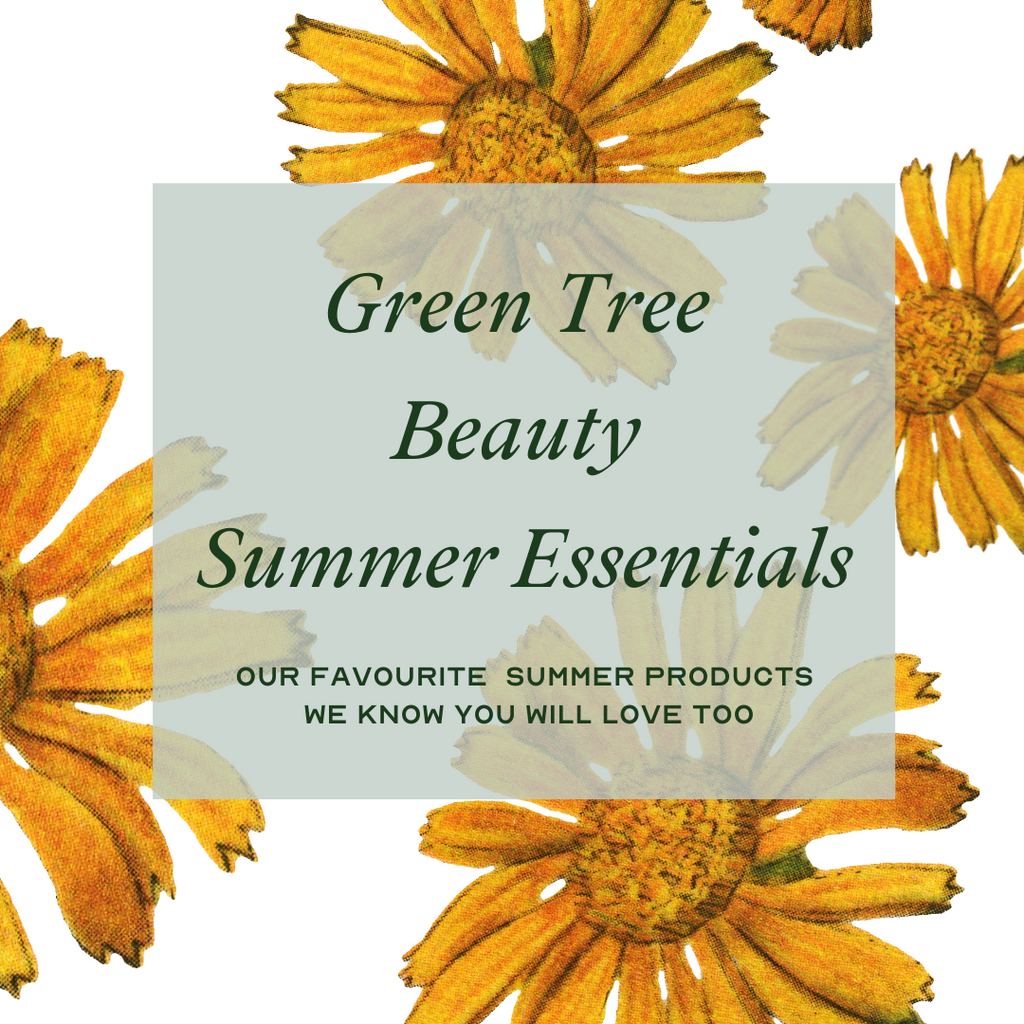 Green Tree Beauty's Summer Essential List
With summer officially here, we thought it would be perfect timing to put together a list of our favourite summer beauty products.
1. Change Tooth Tabs
Mess free, zero-waste toothpaste perfect for travel and camping.
Change Tooth Tabs
$25
The best-tasting, zero-waste alternative to traditional toothpaste. These tablets taste and work just like traditional paste, without the waste! Change Toothpaste tablets are perfect for everyday use, airplane carry-on travel and camping. Plus, with Change Toothpaste's mess-free tablet formula, you can say goodbye to gobs of toothpaste in the sink!
2. Ash and Thorn Skin Repair
Multi-use salve for burns, wounds, dry skin and can even be used as a face cream.
Ash and Thorn Herbal Remedies
$25
Use the healing properties of Calendula in Ash & Thorn's multi-use Skin Repair Salve to sooth your dry hands and body, mend wounds and reduce scarring. It is also an excellent last step to your evening skincare ritual - it can be used to seal in your serums, ensuring your skin is receiving maximum benefits from their ingredients.
3. Viva Organics Exfoliating Gel
Slough off the day and deep cleanse yours pores after a day of fun in the sun.
Amaze Exfoliating Gel
$48
A highly effective plant-based non-abrasive natural exfoliant that is light to use on the face but still has the effectiveness of traditional exfoliators. This exfoliating gel helps to slough off the dead skin layer and deep cleans and unclogs your pores, while also minimizing visible age spots, scarring, and fine lines. With its unique combination of ginseng, DangQuai, and aloe vera, the Amaze Exfoliating Gel calms and smoothes the skin from impurities leaving your skin looking visibly more rejuvenated and fresh. 
4. Ava Isa Sun Lip Sun Whip
Don't forget to protect your lips from the Sun! Available in in two shades and clear.
Ava Isa Sun Lip Sun Whip
$22.50
All Mineral Tinted Lip Balm with SPF Protection and Luscious Hydration. Infused with vegan, plant-based oils- these all-mineral lip balms contain a whopping 20% zinc oxide for active UVA and UVB protection.  They melt with your natural body heat to go from  a balm like texture to a moisture-preserving wash of hydration and bright pop of colour. 

5. Elate Refresh Tint
An easy to apply soft, sheer coverage with a boost of hydration as an all-day tint for your skin.

Elate Cosmetics Refresh Fresh Tint
$32
This clean beauty foundation provides a soft, sheer coverage with a boost of hydration as an all-day tint for your skin. Those looking for a minimal makeup routine, can benefit from the plant-derived ingredient, hyaluronic acid, that assists in retaining water for that extra hydration and an empowering blend of antioxidants for the skin
6.  Red Head Aromatherapy Bugger Off Spray
Ward off bugs with this carefully made blend of essential oils.

Red Head Aromatherapy Bugger Off Spray
$29
Enjoy the outdoors this summer and ward off bugs with this carefully made blend of essential oils by Red Head Aromatherapy. 

7. Cyberderm Tinted Sunscreen SPF 50
The sunscreen of your dreams with a sheer tint to even out skin tone.
Cyberderm Tinted Sunscreen SPF 50
$57.50
Consider this your new favourite tinted sunscreen. It provides a very sheer pop of colour in a neutral nude/beige that can be used by most skin tones. It contains Norwegian Spruce Extract for a powerful anti-oxidant to help prevent the signs of aging.
8. Upfront Shampoo Bars
Ditch the plastic bottles and travel light with these effective, colour-safe hair care bars.

Upfront Shampoo Bar-Universal
$15
The Universal Shampoo Bar intensely moisturizes for perfectly quenched hair. Hydrating mango seed butter and hydrolyzed oat protein combat the impacts of element exposure and distress for ultimate manageability. Featuring a herbaceous scent profile of Bergamot, Wintergreen & Cedarwood. This sulphate-free shampoo bar creates an abundant lather that is pH-balanced to be mild, non-irritating and safe for colour-treated hair.
So there you have it our summer list of sustainable clean products that we think you will love this summer. Which products will you be adding to your summer beauty essentials list?